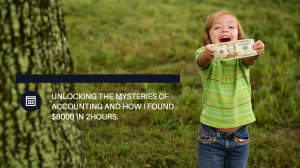 'I wasn't happy with my book keeper and was introduced to Jules. I explained to her the problems I was having and she immediately knew the answers. That's when she impressed me. I hired her and within 2 days she discovered faults in my accounting system. She managed to get me $8000 in tax refunds from the ATO. What a dream come true.' Steve T.
Everyone loves a feel-good story and it only took one Saturday morning to achieve this remarkable result. All too often I'm called in when clients feel something is not quite right with their books but they have no means of working out why.
Using my investigative audit skills and methodology I have uncovered many issues similar to this. Through no fault of my clients, it's often inexperienced contractors or internal staff who are not fully trained or detailed enough in reconciliation procedures.
Perhaps I can help you, too? Are you feeling cash flow poor, or need someone to explain the numbers on your Balance Sheet and Profit & Loss? Or perhaps your business needs a strategic review? If this sounds like you, please contact me for your free 15-minute confidential consultation: jules@breesedynamics.com or call 0447 574 586.